Audioburst Creators
This content is brought to you by Audioburst Creators, a marketing management service that offers automated tools designed to help podcasters and other talk audio creators grow their audience.
Learn more
If you haven't started selling merchandise for your podcast, this holiday season may be a good time to start.
Merchandise increases brand awareness and does wonders for community and listener engagement. It often attracts additional listeners, and it may prove to be a significant revenue stream for you as well.
Luckily, producing and selling merchandise has become quite easy in recent years. Services like Amazon merch, tee spring and bonfire automate the entire process, requiring as little as finding the right merchandise and uploading your logo.
4 unique merch ideas for podcasters
1. The Classic
The easiest way to start is by selling T-shirts or mugs. With recent advances in digital printing, you can end up with affordable, yet high-quality products.
If you want to show off your creativity, try a unique T-shirt design showcasing your own led-audiogram. These shirts combine an electro luminescence graphic equaliser display with fresh new designs of your own to create a cool flashing effect. They're sure to grab people's attention.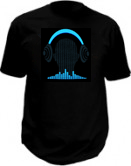 2. The Seasonal
The oldest trick in the book still works – if you want to knock listeners' socks off as they head into winter, try branding socks, wool hats, or scarves. It worked for us:
Winter or no winter, it's still Corona season as well. And so, accessories that help keep people safe will continue to be in demand for a while longer.
A branded mask, for example, can easily be created using contrado.
3. The product-oriented
I actually found this on tik-tok. These guys run a whisky podcast and sell this branded ice ball press. If you have a theme for your podcast, consider finding the right product for it.
If you're a popular surfing podcast, for example, your audience will much prefer a rash vest over a mask or a glass.
4. The digital
Zoom background – Share a designed background that your fans could use in zoom meetings. Make sure it is related to your theme and that the branding is not not intrusive or overbearing.
Ringtone – Give your listeners the option to use your podcast intro as a ringtone and increase your sound branding.
Pro – Instagram filter. If you have what it takes to design an Instagram filter, try it – it may go viral! Visit Spark AR to learn more
Merchandise is a great way for content creators to engage with fans and monetize their work. It's also lots of fun. We'd love to see what you come up with!

For additional monetization ideas, try 5 Ways to Monetize Your Podcast.